5 reasons why you should pick Ronaldo for FIFA 16
The EURO 16 sensation is the king of FIFA 16
Cristiano Ronaldo took the world by storm during EURO 2004 when Greece pulled off an upset against his country, Portugal. Since then, Ronaldo has been a hit for both club and country, competing with Lionel Messi year in year out, to be the best player in the world. The Real Madrid forward is touted as the best player to pick for FIFA 16, and even TI_Samorai and TI_AmTuah agree that it's true as both of them rely on the Ronaldo-Benzema-Bale strikeforce and cans of Red Bull to win games at tournaments.
If you're an avid FIFA 16 player, you would know that Ronaldo is one of the best players in the game. Still not convinced? Here are 5 reasons why you should pick Ronaldo.
1) He's fast
Ronaldo is one of the fastest players in the game and can easily conduct a quick counter attack against an opponent and leave them scrambling to chase him. Such ratings also give Ronaldo an edge to speed past defenders in the nick of time before they attempt to intercept the ball and kill the momentum of the attacking play. He's not as fast as Hector Bellerin, but he's good enough!
Acceleration: 91
Agility: 90
Sprint Speed: 93
Stamina: 87
2) He scores well and shoots like a rocket
Gone were the Roberto Carlos & Steven Gerrard days of powerful rocket-like shots in regular games – but Cristiano Ronaldo emerged to keep the tradition going. The Portuguese has a crazy rating of 94 when it comes to shot power, giving him an advantage in shooting past the keeper. His long shot rating is also impressive, so you can count on Ronaldo to pull a surprise and ram one home from outside the box.
Shot Power: 94
Long shot: 93
Finishing: 95
Att. Position: 93
3) He can cross the ball well
Some FIFA players prefer to put Benzema in the middle and use Ronaldo as a crossing-type of winger. Well, that's not a bad idea when Ronaldo has a rating of 82 for his crossing capabilities. With his expertise, you can swiftly cross the ball to Benzema for him to head or volley the ball past the goal-line, no problem!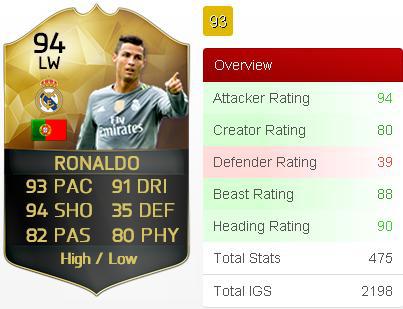 4) He's a Master of dribbling.
We can argue all day on whether Lionel Messi or Cristiano Ronaldo is the better dribbler – but we have to admit that both of them are masters at what they do best, which is dribbling. Cristiano Ronaldo has a dribbling rating of 93 and what makes FIFA 16 players pick him over Messi is simple: he can hold the ball longer. With a Ball Control rating of 91 and 78 for Strength, it's harder for defenders to obstruct Ronaldo's attempts than Messi's – and that's why he's number 1 for a lot of players.
Dribbling: 93
Strength: 78
Ball Control: 91
5) That Header
We've all seen that powerful headed goal Ronaldo scored during the EURO 2016 competition, and with a virtual version of Ronaldo in FIFA 16, everyone recreate the moment in their own fantasy match. His heading abilities are off the charts with a Jumping rating of 94 and Heading Accuracy of 86. Sublime!
Jumping: 94
Heading Acc: 86
Keep yourself updated with more articles like these only on RBEZ – but until then, grab a can of Red Bull!